Regular price
$325.00 USD
Regular price
Sale price
$325.00 USD
Unit price
per
Sale
Sold out
Kettlebells have become one of the most popular trends on the health club scene. On any given day, you can see everyone from housewives to celebrities to business executives or professional athletes and trainers performing the most advanced kettlebell routines with perfect form. Now, thanks to Body-Solid, you to can enjoy the many benefits of kettle bell training. In training rooms across America, from urban fitness centers to basement gyms, hard-core lifters and other fitness enthusiasts are pushing themselves with Kettlebells. Best described as cannonballs with handles, these iron spheres originated in Russia as the muscle-building tool of choice for Red Army soldiers and athletes.

A legendary Russian exercise device, the kettle bell has long been a favorite for those seeking a special edge in strength and endurance. Kettlebell training develops strength, power, endurance and balance. Kettlebell workouts have long been a favorite of throwers, jumpers, sprinters and hurdlers. You can perform squats, pulls, overhead throws and rotational training plus much more. Today "KB" workouts, which produce particularly impressive gains in the legs, hips and shoulders, are all the rage. There are more muscles involved in balance and leverage with the kettlebell; you work every muscle just keeping them up and moving them around you. By training with Body-Solid kettle bells, you'll achieve strength, endurance and body shaping as you build core strength with every successive workout.
The 3-tier kettlebell rack is designed to be compact, stable and affordable. Perfect for sets of kettlebells, the rack can hold up to six bells from 5 lb to 50 lb in size. The modern design complements any fitness room, and comes with a limited lifetime home warranty.
Features -
Cast iron with a tough, black, enamel finish.

Handle are steel reinforced for durability.

Dimensions: 19" L x 20" W x 21" H
Set includes:
1 x 5 lb
1 x 10 lb
1 x 15 lb
1 x 20 lb
1 x 25 lb
1 x 30 lb
1 x 3-Tier rack GDKR50

Total Weight: 124 lbs

*Set includes 6 kettlebells and 1 rack total.
Share
View full details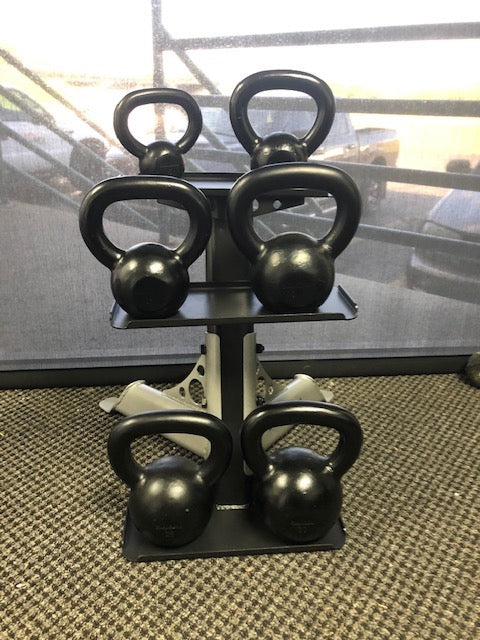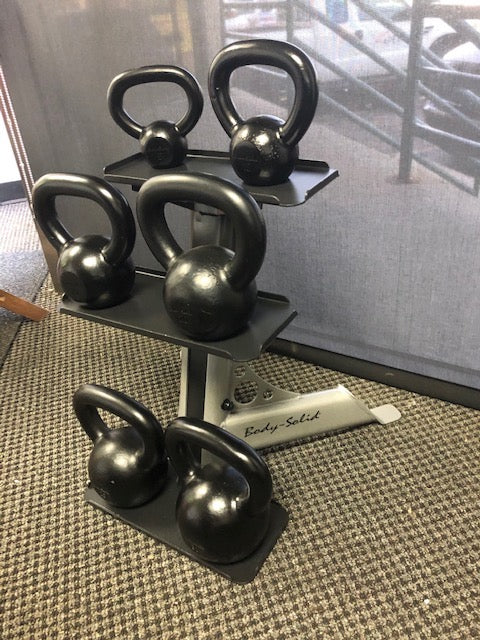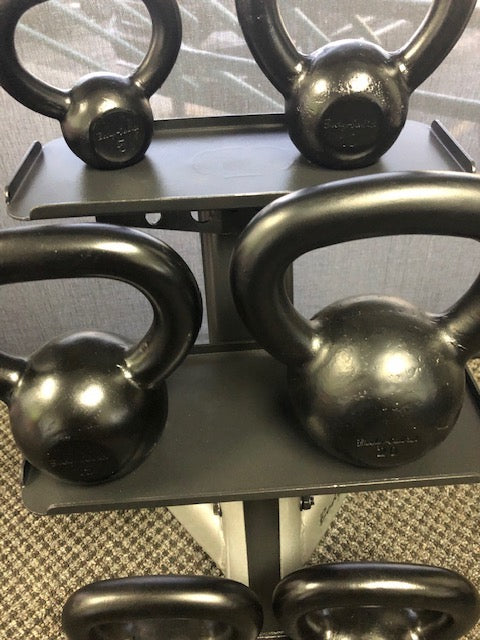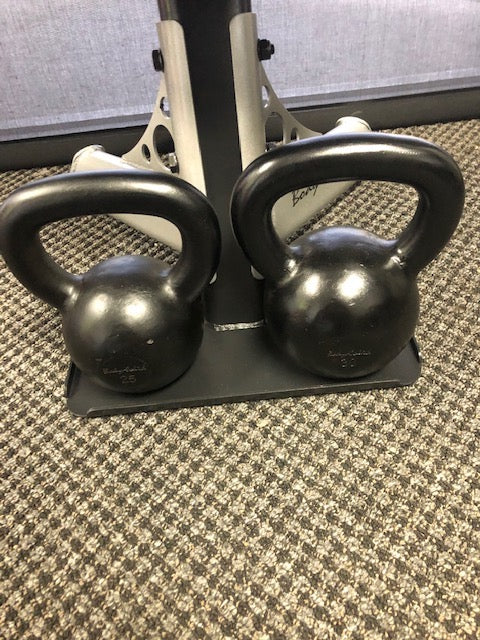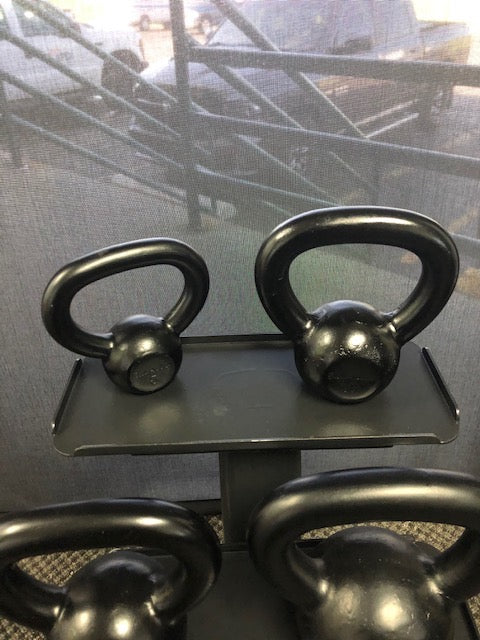 Customizable Shipping

Thank you for choosing Midwest Used Fitness Equipment for your fitness needs. We are excited to assist you in your journey towards a healthier and fitter lifestyle.

Please note that each order placed with us will require a personalized shipping quote. This is because shipping costs can vary depending on factors such as the size, weight, and destination of the equipment.

To ensure that you receive the most accurate shipping quote, we will carefully evaluate your order and consider the best shipping options available. Our goal is to provide you with the most cost-effective and efficient delivery service.

To proceed with your purchase and obtain a shipping quote, please complete your order as usual. Our dedicated team will promptly reach out to you with a tailored shipping quote that takes into account your specific requirements.

We appreciate your understanding and patience in this process. Rest assured, we are committed to providing you with excellent service, and our team will work diligently to ensure your fitness equipment reaches you in a timely manner and in perfect condition.

If you have any questions or require further assistance, please don't hesitate to reach out to our customer support team. We are here to help you every step of the way.

Thank you for choosing Midwest Used Fitness Equipment. We look forward to serving you and helping you achieve your fitness goals.

30 Day In-Home Trial

At Midwest Used Fitness Equipment, we understand the importance of finding the perfect fitness equipment that aligns with your goals and preferences. That's why we are thrilled to offer you our exclusive 30 Day In-Home Trial.

With our 30 Day In-Home Trial, we want to provide you with the opportunity to experience the equipment firsthand in the comfort of your own home. We believe that trying out the equipment in your personal environment is the best way to ensure it meets your needs and expectations.

Here's how it works: Once you receive your order, you will have a full 30 days to test and evaluate the equipment. Take your time to familiarize yourself with its features, functionality, and overall performance. We encourage you to incorporate it into your fitness routine and truly experience the benefits it has to offer.

If, within the 30-day trial period, you find that the equipment doesn't meet your expectations or isn't suitable for your needs, simply reach out to our customer support team. We will guide you through the return process and provide you with all the necessary instructions.

We value your satisfaction above all else, and we want to ensure that you are completely happy with your purchase. Our 30 Day In-Home Trial is designed to give you peace of mind and the confidence to make the right decision.

Please note that certain terms and conditions apply to our In-Home Trial program, and our team will be happy to provide you with all the details upon request.

Thank you for choosing Midwest Used Fitness Equipment as your trusted partner in achieving your fitness goals. We are dedicated to providing you with exceptional products and unparalleled customer service.

If you have any questions or require further assistance, please don't hesitate to contact our friendly customer support team. We are here to assist you in any way we can.