Regular price
$800.00 USD
Regular price
Sale price
$800.00 USD
Unit price
per
Sale
Sold out
The dependable performance of our Model D RowErg has made it the best selling indoor rower in the world. Recognized by competitive rowers as the standard for indoor training, the Model D delivers an effective cardiovascular workout that will increase your fitness level and tone your physique. At a fraction of the cost of other home fitness equipment or a yearly gym membership, you can have the luxury of working out in your home whenever you choose…and get a great workout to boot.
We value practical design: our Model D is efficiently engineered and will last a lifetime. The Model D you buy is the same machine used by Olympic- and elite-level athletes to train for their sport—it'll take the abuse of heavy training day after day. If you're looking for a solid piece of exercise equipment at a great value, the Model D is the perfect choice.
Our indoor rowers respond to your effort on every stroke, so you are in full control of your exertion and resistance at all times. The spiral damper allows you to easily adjust the airflow to the flywheel, so you can change the feel of the stroke to suit your preference. The flywheel design minimizes noise while maximizing a smooth feel.
Seat Height: 14 in (36 cm)
Monorail Length: 54 in (137 cm)
Users with an inseam of 38 inches (96.5 cm) or more may require an extra-long monorail. Contact Concept2 for more information.
Chain or Cord Nickel-plated steel chain
Chain/Cord Housing Partially enclosed
Power Requirement: Takes two D cell batteries. During your workout, the monitor draws power from the spinning flywheel to extend battery life.
500 lb (227 kg) as tested by Concept2.*
*300 lb (135 kg) as tested per European Stationary Fitness Equipment Testing Standard EN 20957-7.
Aluminum front legs, steel rear legs
Monitor Arm ABS plastic. Pivots for storage and to adjust monitor height. Monitor angle can also be adjusted.
Can be separated into two parts for easy storage
Assembled: 8 ft x 2 ft (244 cm x 61 cm)
With Clearance for Use: 9 ft x 4 ft (274 cm x 122 cm)
For Storage: 25 in x 33 in x 54 in (63.5 cm x 83.8 cm x 137.2 cm)
Share
View full details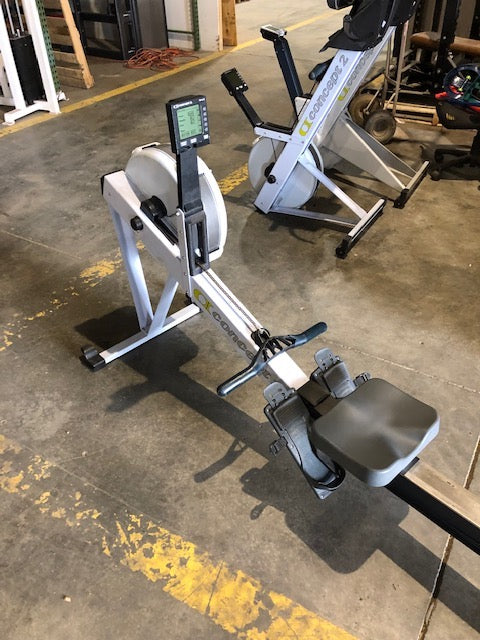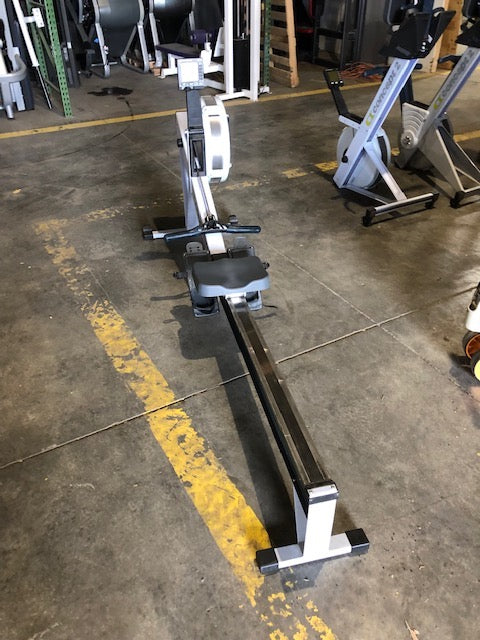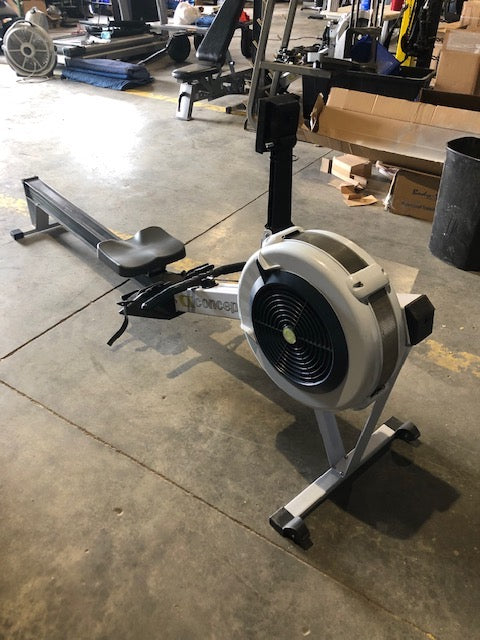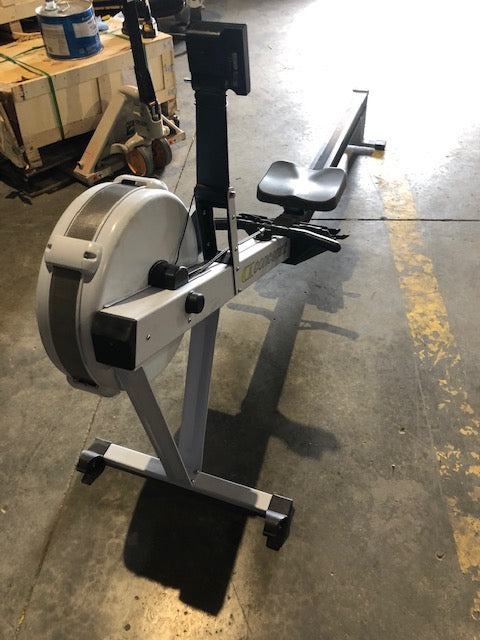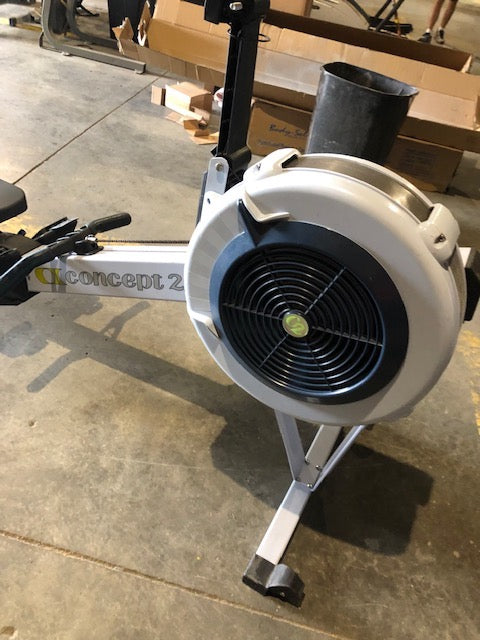 Customizable Shipping

Thank you for choosing Midwest Used Fitness Equipment for your fitness needs. We are excited to assist you in your journey towards a healthier and fitter lifestyle.

Please note that each order placed with us will require a personalized shipping quote. This is because shipping costs can vary depending on factors such as the size, weight, and destination of the equipment.

To ensure that you receive the most accurate shipping quote, we will carefully evaluate your order and consider the best shipping options available. Our goal is to provide you with the most cost-effective and efficient delivery service.

To proceed with your purchase and obtain a shipping quote, please complete your order as usual. Our dedicated team will promptly reach out to you with a tailored shipping quote that takes into account your specific requirements.

We appreciate your understanding and patience in this process. Rest assured, we are committed to providing you with excellent service, and our team will work diligently to ensure your fitness equipment reaches you in a timely manner and in perfect condition.

If you have any questions or require further assistance, please don't hesitate to reach out to our customer support team. We are here to help you every step of the way.

Thank you for choosing Midwest Used Fitness Equipment. We look forward to serving you and helping you achieve your fitness goals.

30 Day In-Home Trial

At Midwest Used Fitness Equipment, we understand the importance of finding the perfect fitness equipment that aligns with your goals and preferences. That's why we are thrilled to offer you our exclusive 30 Day In-Home Trial.

With our 30 Day In-Home Trial, we want to provide you with the opportunity to experience the equipment firsthand in the comfort of your own home. We believe that trying out the equipment in your personal environment is the best way to ensure it meets your needs and expectations.

Here's how it works: Once you receive your order, you will have a full 30 days to test and evaluate the equipment. Take your time to familiarize yourself with its features, functionality, and overall performance. We encourage you to incorporate it into your fitness routine and truly experience the benefits it has to offer.

If, within the 30-day trial period, you find that the equipment doesn't meet your expectations or isn't suitable for your needs, simply reach out to our customer support team. We will guide you through the return process and provide you with all the necessary instructions.

We value your satisfaction above all else, and we want to ensure that you are completely happy with your purchase. Our 30 Day In-Home Trial is designed to give you peace of mind and the confidence to make the right decision.

Please note that certain terms and conditions apply to our In-Home Trial program, and our team will be happy to provide you with all the details upon request.

Thank you for choosing Midwest Used Fitness Equipment as your trusted partner in achieving your fitness goals. We are dedicated to providing you with exceptional products and unparalleled customer service.

If you have any questions or require further assistance, please don't hesitate to contact our friendly customer support team. We are here to assist you in any way we can.