Regular price
$2,250.00 USD
Regular price
Sale price
$2,250.00 USD
Unit price
per
Sale
Sold out
The 625A Lower Body Arc Trainer from Cybex has an array of settings that can be customized to suit a variety of training needs for the lower body. Thanks to technology that builds your resistance and alternates your movement patterns, you can target and firm up muscle groups like your quads or even your butt. This is also a machine that won't place extra strain on your knees or other joints, thanks to Reverse Arc Motion only from Cybex.
Features:
CardioTouch Display: Advanced screen technology allows you to instantly customize your workout without hassle, as well as let you see what muscles are being conditioned during your session.
Glide, Stride, and Climb Zones: This broadens your workout and allows you to train for three different incline zones. Set in low position for the Glide zone, medium position for Stride, and high position for the Climb zone.
Load Dependency: The cross trainer is designed to scale its resistance to your weight, to help you get the best training possible and burn more calories than you would otherwise.
Muscle Targeting: The machine's unique range of incline (as seen above) and resistance settings allows you to target different muscle groups throughout your lower body.
Reverse Arc Motion: This patented advanced stride technology has your legs moving in their biomechanically correct pathways. This prevents injury and pain by reducing stress on the knees and other leg joints while still allowing flexibility and complete range of motion.
Workout Selections: Customize your training session by selecting from Quick Start, Manual, three Weight Loss, three Cardio, two Strength, and Heart Rate Control programs. Each program controls both resistance and machine incline, in addition to coming in 10 different levels.
Share
View full details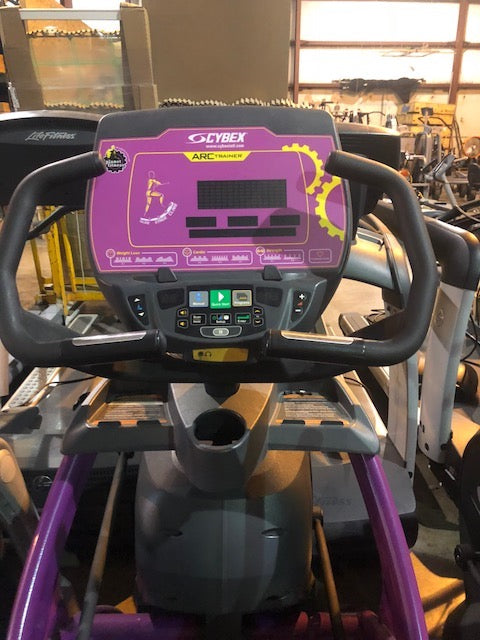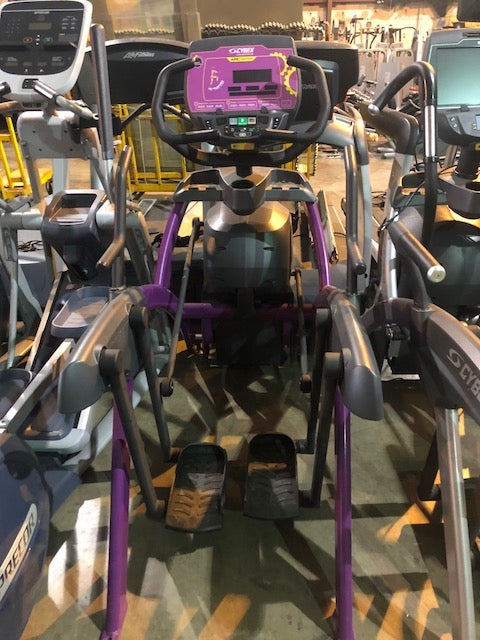 Customizable Shipping

Thank you for choosing Midwest Used Fitness Equipment for your fitness needs. We are excited to assist you in your journey towards a healthier and fitter lifestyle.

Please note that each order placed with us will require a personalized shipping quote. This is because shipping costs can vary depending on factors such as the size, weight, and destination of the equipment.

To ensure that you receive the most accurate shipping quote, we will carefully evaluate your order and consider the best shipping options available. Our goal is to provide you with the most cost-effective and efficient delivery service.

To proceed with your purchase and obtain a shipping quote, please complete your order as usual. Our dedicated team will promptly reach out to you with a tailored shipping quote that takes into account your specific requirements.

We appreciate your understanding and patience in this process. Rest assured, we are committed to providing you with excellent service, and our team will work diligently to ensure your fitness equipment reaches you in a timely manner and in perfect condition.

If you have any questions or require further assistance, please don't hesitate to reach out to our customer support team. We are here to help you every step of the way.

Thank you for choosing Midwest Used Fitness Equipment. We look forward to serving you and helping you achieve your fitness goals.

30 Day In-Home Trial

At Midwest Used Fitness Equipment, we understand the importance of finding the perfect fitness equipment that aligns with your goals and preferences. That's why we are thrilled to offer you our exclusive 30 Day In-Home Trial.

With our 30 Day In-Home Trial, we want to provide you with the opportunity to experience the equipment firsthand in the comfort of your own home. We believe that trying out the equipment in your personal environment is the best way to ensure it meets your needs and expectations.

Here's how it works: Once you receive your order, you will have a full 30 days to test and evaluate the equipment. Take your time to familiarize yourself with its features, functionality, and overall performance. We encourage you to incorporate it into your fitness routine and truly experience the benefits it has to offer.

If, within the 30-day trial period, you find that the equipment doesn't meet your expectations or isn't suitable for your needs, simply reach out to our customer support team. We will guide you through the return process and provide you with all the necessary instructions.

We value your satisfaction above all else, and we want to ensure that you are completely happy with your purchase. Our 30 Day In-Home Trial is designed to give you peace of mind and the confidence to make the right decision.

Please note that certain terms and conditions apply to our In-Home Trial program, and our team will be happy to provide you with all the details upon request.

Thank you for choosing Midwest Used Fitness Equipment as your trusted partner in achieving your fitness goals. We are dedicated to providing you with exceptional products and unparalleled customer service.

If you have any questions or require further assistance, please don't hesitate to contact our friendly customer support team. We are here to assist you in any way we can.