Regular price
$1,250.00 USD
Regular price
Sale price
$1,250.00 USD
Unit price
per
Sale
Sold out
The GTS Classic--winner of three health club industry innovation awards--provides for a full-body, intense workout in 30-minutes without the use of any additional accessories. With quick, easy transitions between exercises, high-performance training and body sculpting on this award-winning, functional training machine delivers fast, observable results--in the health club and in your home.

Total Gym recreates and strengthens the way your body executes daily physical activities and stores those functions in your muscle memory. Delivering the optimum functional training experience, Total Gym works multiple muscle groups together challenging proprioception and core stabilizers by integrating multi-plane movement and unrestricted range of motion in nearly every exercise. This allows you to train more productively. The result is full-body conditioning though the fitness continuum from early post-injury to high performance training. The incline plane design with incremental calibrated load adjustment, rolling glideboard and dynamic arm cable system makes it easy to begin at the user's ability level, and allows the exercise specialist to create goal specific training. Yielding outstanding results at every level--for the beginning exerciser to the elite athlete, Total Gym serves more than 24 million people every year with excellence in product design and functionality. Total Gym is trusted to deliver the desired results.

Benefits for the individual exerciser:
Short, efficient, full-body workout producing fast, observable, body-changing results
Body sculpting -- recruits core abdominal and back muscles in every exercise
Increased strength and endurance
Improved coordination and balance
Weight and inch loss, improved BMI
Increased metabolism
Enhanced functional performance of daily activities and athleticism
Cardio-endurance gains during resistance training
Low impact, safe, complete back support

Training applications and biomechanics:
Closed-chain partial loading of the joints
Work in all three cardinal planes plus multi-plane (3-D) movement
Unrestricted range of motion
Adjust cable-pulley force angles based on client size, girth, and training objective
Train prime stabilizers & proprioception
Activity-specific work hardening, including sports-specific movement
Explosive plyometric training for upper & lower extremities
Full body support, joint friendly, non-compressive
Over 200 exercises & variations
Pilates evolved training & education
Reliable tool for assessing lower body strength

Product Features
Eight resistance levels from 5% to 59% of body weight.
5° to 28° incline.* Free Rolling Glideboard
Dynamic Unilateral/Bilateral Arm Pulley System
Lateral Adjustable Training (LAT) bars that allow for six arm pulley 
locations to accommodate any individual's size or height. 
This specific pulley placement improves line of pull and the 
effectiveness and specificity of force angles for up
per body cable exercises. LAT bars also adjust down to become Pull-up bars.
Folding Foot Holder with adjustment for larger feet
Telescoping Squat Stand with three height adjustments
Folds and Stores

Specifications:
Tubing: 1.25" x 2" tubing 
Tower Construction: Tower is reinforced steel siding counter weight system/silver powder coating.
User Weight: Rated to 350 lbs. body weight
Maximum Load Capacity: 650 lbs. Inclusive of glideboard
User Height Limit: 6' 5" 
Glideboard: 16" x 48" 
Rollers: Sealed precision ball bearings
Pulleys: Chromed steel pulley case
Cables: 2000 lb. test nylon steel aircraft cable
Handles: Foam Padded Handles with swivel and hammer grip action

Dimensions:
Unfolded: W/L/H 36" x 104" x 66" 
Folded: W/L/H 36" x 23" x 58"  
Frame & Rail Construction: Chrome plated, polished steel upper & lower rails. Cold rolled heave gauge, nickel.
Unit Weight: 180 lbs. 
Board Upholstery: Glideboard - Heavy duty, box stitched, tear resistant vinyl
Foam Padding: 1 1/4" high density foam.
Resistance Levels: Eight levels. 5¼° to 28¼° slope. 5% to 59% of body weight.
Storage Capabilities: Folds and stores upright
Assembled Dimensions: 34" W (LAT Bars) x 99" L x 66"H (110" L w/ wheels and Folding Platform/Telescoping Squat Stand)
Included Equipment: Glideboard, Dynamic Unilateral/ Bilateral Pulley System, LAT Bars, Folding Foot Holder, Telescoping Squat Stand w/ Folding Platform
Rolling Range: 33"
Share
View full details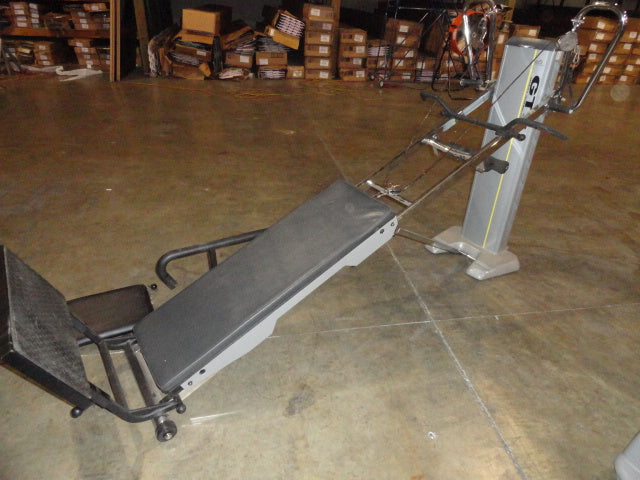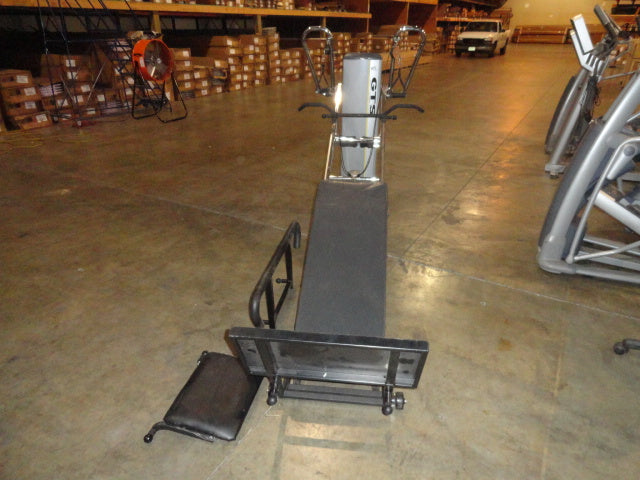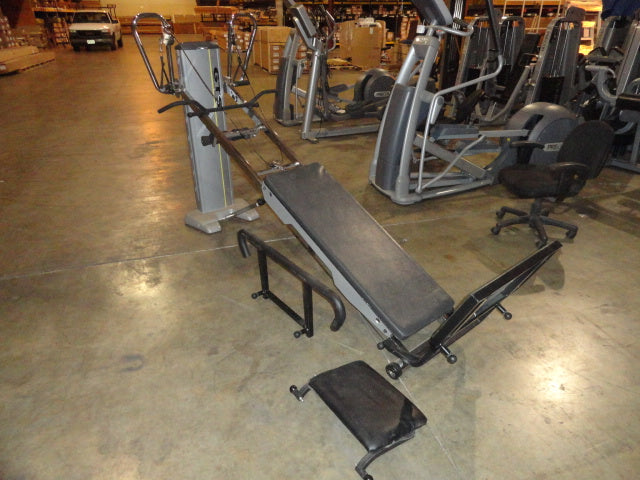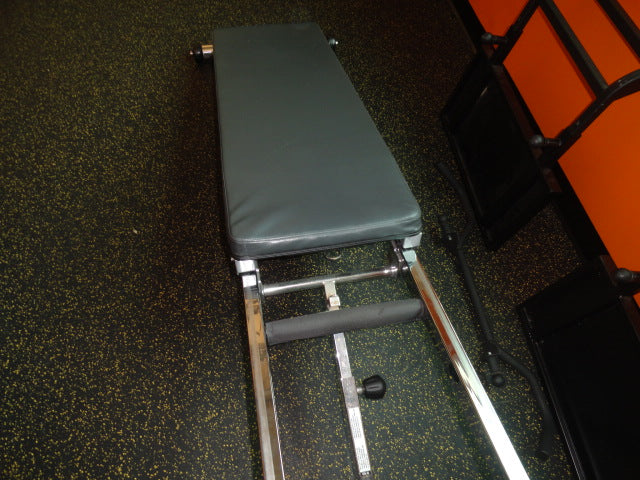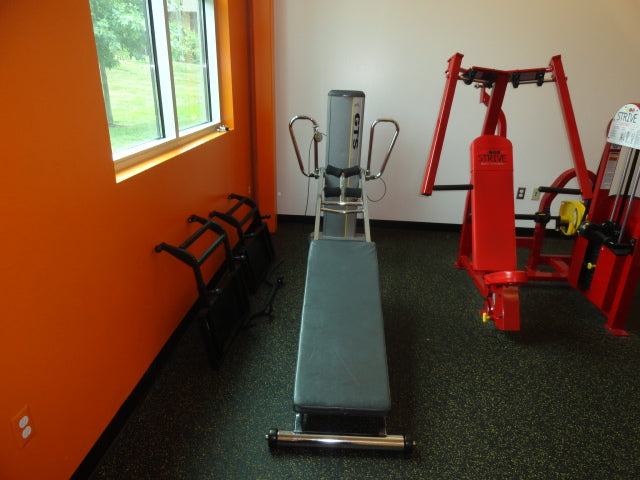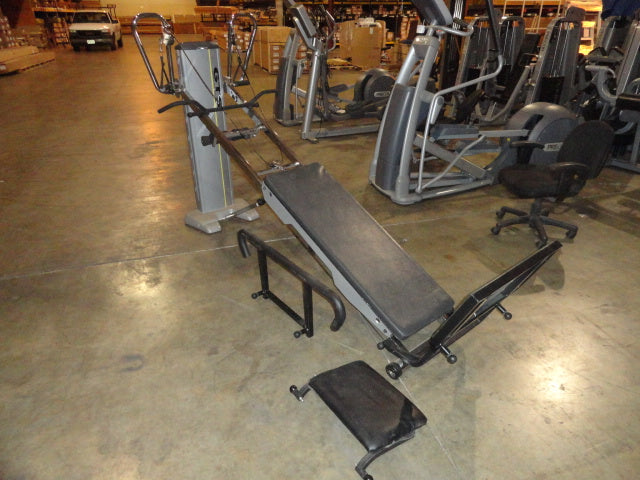 Customizable Shipping

Thank you for choosing Midwest Used Fitness Equipment for your fitness needs. We are excited to assist you in your journey towards a healthier and fitter lifestyle.

Please note that each order placed with us will require a personalized shipping quote. This is because shipping costs can vary depending on factors such as the size, weight, and destination of the equipment.

To ensure that you receive the most accurate shipping quote, we will carefully evaluate your order and consider the best shipping options available. Our goal is to provide you with the most cost-effective and efficient delivery service.

To proceed with your purchase and obtain a shipping quote, please complete your order as usual. Our dedicated team will promptly reach out to you with a tailored shipping quote that takes into account your specific requirements.

We appreciate your understanding and patience in this process. Rest assured, we are committed to providing you with excellent service, and our team will work diligently to ensure your fitness equipment reaches you in a timely manner and in perfect condition.

If you have any questions or require further assistance, please don't hesitate to reach out to our customer support team. We are here to help you every step of the way.

Thank you for choosing Midwest Used Fitness Equipment. We look forward to serving you and helping you achieve your fitness goals.

30 Day In-Home Trial

At Midwest Used Fitness Equipment, we understand the importance of finding the perfect fitness equipment that aligns with your goals and preferences. That's why we are thrilled to offer you our exclusive 30 Day In-Home Trial.

With our 30 Day In-Home Trial, we want to provide you with the opportunity to experience the equipment firsthand in the comfort of your own home. We believe that trying out the equipment in your personal environment is the best way to ensure it meets your needs and expectations.

Here's how it works: Once you receive your order, you will have a full 30 days to test and evaluate the equipment. Take your time to familiarize yourself with its features, functionality, and overall performance. We encourage you to incorporate it into your fitness routine and truly experience the benefits it has to offer.

If, within the 30-day trial period, you find that the equipment doesn't meet your expectations or isn't suitable for your needs, simply reach out to our customer support team. We will guide you through the return process and provide you with all the necessary instructions.

We value your satisfaction above all else, and we want to ensure that you are completely happy with your purchase. Our 30 Day In-Home Trial is designed to give you peace of mind and the confidence to make the right decision.

Please note that certain terms and conditions apply to our In-Home Trial program, and our team will be happy to provide you with all the details upon request.

Thank you for choosing Midwest Used Fitness Equipment as your trusted partner in achieving your fitness goals. We are dedicated to providing you with exceptional products and unparalleled customer service.

If you have any questions or require further assistance, please don't hesitate to contact our friendly customer support team. We are here to assist you in any way we can.