Regular price
$2,850.00 USD
Regular price
Sale price
$2,850.00 USD
Unit price
per
Sale
Sold out
This treadmill is where your digital life meets your workout experience. The third generation of touch screen consoles redefines the workout experience with the most advanced technology. The 10" integrated LCD touch screen features an abundance of entertainment options, enhanced interaction, internet connectivity and much more. Choose the SI-TV console for integrated TV. Everything about the next generation Elevation Series Treadmill from the DX3 Belt and Deck System and FlexDeck technology to the sophisticated design and open sight lines to the Activity Zone that places the most-used controls at the user's finger tips, is designed to the deliver the ultimate cardio experience with the long-lasting durability you've come to know from Life Fitness. With four colors to choose from, Elevation Series has the style options to complement your facility.

Features
Discover Console:
Easy-To-Use Interface: Go ahead, swipe it. Discover's Swipe Technology and high-definition screen displays content and controls with vibrant images and graphics. With a swipe of a finger, navigate seamlessly between crisp, clear screens to choose the entertainment and workouts you want.
Personal Identification Technology: Find your favorites with ease when you login to your LFconnect settings on Discover. Your preferred workouts, websites and display settings instantaneously load so you can get on and go. All you need is a smartphone, PIN, USB drive or RFID* to access personalized content.
Entertainment On Demand: Watch on-demand videos.* Tune into a favorite sitcom, watch the hottest music videos or play solitaire. There are thousands of entertainment options that will engage any interest.
Surf The Web: Thanks to Discover's Internet connectivity capabilities, you can visit a website or play a game
Easily choose your favorite websites through your LFconnect account and they will be instantly available at login.
Lifescape Interactive Courses: Lifescape courses feature exclusive interactive, high-definition hikes, runs and bikes through famous locations around the world. Whether an exerciser chooses to bike in France's Col de la Colombiere, or run in California's Trinity Mountains, the integrated machine controls increase the resistance or incline and video speed to replicate an authentic outdoor experience.
Connect To Your Device: Discover connects and syncs to Android smartphones and Apple devices, including the iPad. Use Bluetooth to connect your headphones. Access your personal library of music, videos, apps and books. Maintain and monitor workout results directly from machine to device with the Life Fitness compatible app of your choice. And with charging capabilities, never worry about low battery life.
Engage With Your Networks: Never miss another tweet or status update again. Let friends, family and workout buddies see your fitness progress on your social networks. Connect with friends, personal trainers or groups through My Community on LFconnect to motivate and challenge you. Allow a personal trainer to track your workouts or set up customized workouts for you through LFconnect.
10" Integrated Surface Capacitive LCD Touch Screen
Swipe Technology
Screen Protection: Protective top layer, internal shock mounts, gasket
Optional Attachable TV (wide screen format): Analog and Digital NTSC/ATSC/QAM, PAL/ SECAM/DVB-T, NTSC/ISDB-T with BCAS: Optional
Language Choices: English, English UK, Spanish, Portuguese, Italian, French, German, Dutch, Turkish, Simplified Chinese, Japanese, Korean, Russian, Arabic, Polish, Catalan, Finnish, Hungarian, Euskara
English/Metric Selection: mph/kph/rpm or lbs/kg

SPECIAL FEATURES:
iPod, iPhone, iPad and Android Smartphone Compatibility: Video capability on LCD Touch Screen, Video capability on Optional Attachable TV, Playlist management on LCD Touch Screen, Charging, iPad Holder
Internet: Via CAT6 or CAT5e (shielded recommended), Wireless Connectivity: IEEE802.11a/b/gn* (Optional)
On-Demand Content (Music Videos, TV shows): Available with purchase of Lifescape Gateway
Bluetooth: Compatible with Bluetooth devices
Workout Landscape Views: 400M Track, 5K Nature Trail, Mountain, Zoom
Programmable Go System: Walk-Jog-Run (Treadmill only)
Solitaire: Play Solitaire on the LCD Touch Screen
Life Fitness Reader: Read ePub files on the LCD Touch Screen

Base Features:
Generous running surface: The generous 22" x 60" (56 cm x 152 cm) running surface has a small footprint of 37" x 80" (94 cm x 203 cm) to conserve floor space
DX3 lubricant-infused belt system: with Advanced Belt Tracking System
Activity Zone: Places the most used controls within easy reach.
Lifespring shock absorbers: Deliver smooth cushioning throughout the deck.
Powerful 4-HP motor (8-HP Peak): Features low decibel level for quiet operation.
Stride Sensor: Stops the belt when user leaves the treadmill.

Specifications:
Heart Rate Monitoring: Polar Telemetry (optional chest strap required, Lifepulse Digital Heart Rate Monitoring with DSP (Digital Signal Processing)
Workouts:
Quick Start
Classic Workouts: Manual Goals, Random, Hill, Rolling Hills
Healthy Heart: Moderate Burn, Vigorous Burn, Fixed Time Interval, Variable Time Interval
Performance: 2-Speed Interval, Starter Interval, 5K, 10K
Evaluate: Fit Test, U.S. Army PFT, U.S. Navy PRT, U.S. Marines PRT, U.S. Air Force PRT, WFI Submax Protocol, Physical Efficiency Battery (PEB)
Goal Workouts: Time, Distance, Calories, Distance Climbed, Time in Zone, Pace
Customized Cool Down
Product Features:
DX3 Belt and Deck System
FlexDeck Shock Absorption System: 8 Lifespring shock absorbers
Speed Range: 0.5-14 mph (0.8-23 kph)
Rollers: 3.5" (9 cm)precision crowned steel rollers, front and back
Elevation: 0%-15%
Motor System: 4.0 HP AC Continuous Duty (8-HP Peak Duty) motor with MagnaDrive motor controller
ErgoBar
Side Handrails
Activity Zone: most often used buttons on Ergo bar
Walk, Run, Jog
Stride Sensor
Integrated Reading Rack
Integrated iPod/iPhone Accessory Tray
2 Removable Cup Holders
Welded Steel Frame, Front Roller Lift Wheels and Rear Levelers
Networking Capabilities: CSAFE-Ready, FitLinxx Certified

Technical Specifications:
Maximum User Weight: 400 lbs
Power Requirements: Dedicated 120 volts/20 amp circuit
Running Surface: 22" x 60"
Length: 80"x Width: 37" x Height: 62.25"
Unit Weight: 442 lbs
Step-Up Height: 10" 
Share
View full details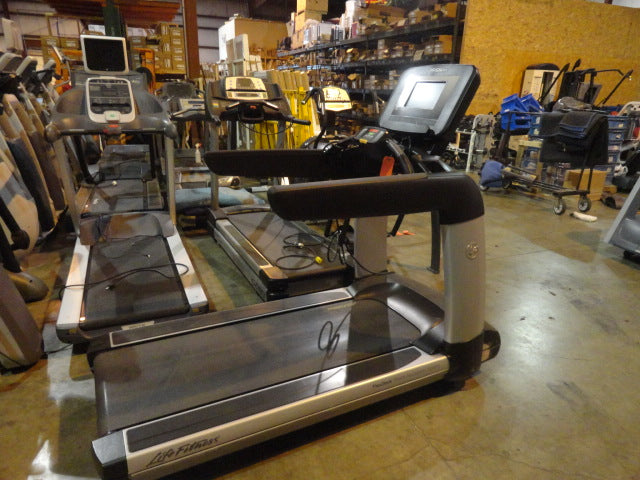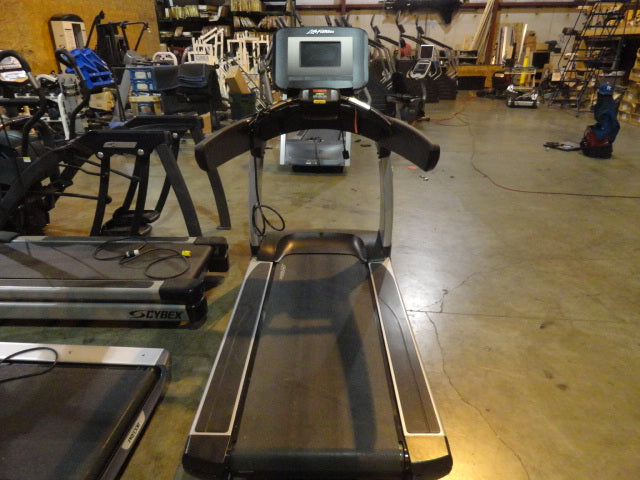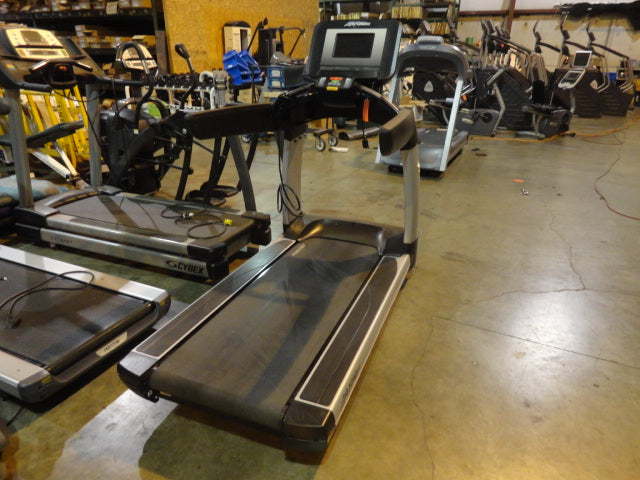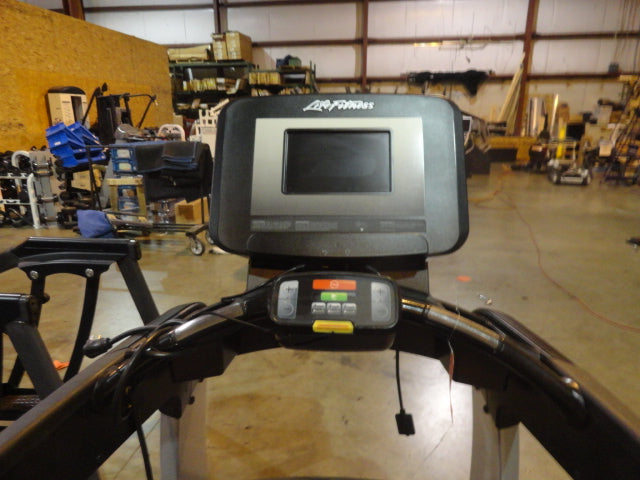 Customizable Shipping

Thank you for choosing Midwest Used Fitness Equipment for your fitness needs. We are excited to assist you in your journey towards a healthier and fitter lifestyle.

Please note that each order placed with us will require a personalized shipping quote. This is because shipping costs can vary depending on factors such as the size, weight, and destination of the equipment.

To ensure that you receive the most accurate shipping quote, we will carefully evaluate your order and consider the best shipping options available. Our goal is to provide you with the most cost-effective and efficient delivery service.

To proceed with your purchase and obtain a shipping quote, please complete your order as usual. Our dedicated team will promptly reach out to you with a tailored shipping quote that takes into account your specific requirements.

We appreciate your understanding and patience in this process. Rest assured, we are committed to providing you with excellent service, and our team will work diligently to ensure your fitness equipment reaches you in a timely manner and in perfect condition.

If you have any questions or require further assistance, please don't hesitate to reach out to our customer support team. We are here to help you every step of the way.

Thank you for choosing Midwest Used Fitness Equipment. We look forward to serving you and helping you achieve your fitness goals.

30 Day In-Home Trial

At Midwest Used Fitness Equipment, we understand the importance of finding the perfect fitness equipment that aligns with your goals and preferences. That's why we are thrilled to offer you our exclusive 30 Day In-Home Trial.

With our 30 Day In-Home Trial, we want to provide you with the opportunity to experience the equipment firsthand in the comfort of your own home. We believe that trying out the equipment in your personal environment is the best way to ensure it meets your needs and expectations.

Here's how it works: Once you receive your order, you will have a full 30 days to test and evaluate the equipment. Take your time to familiarize yourself with its features, functionality, and overall performance. We encourage you to incorporate it into your fitness routine and truly experience the benefits it has to offer.

If, within the 30-day trial period, you find that the equipment doesn't meet your expectations or isn't suitable for your needs, simply reach out to our customer support team. We will guide you through the return process and provide you with all the necessary instructions.

We value your satisfaction above all else, and we want to ensure that you are completely happy with your purchase. Our 30 Day In-Home Trial is designed to give you peace of mind and the confidence to make the right decision.

Please note that certain terms and conditions apply to our In-Home Trial program, and our team will be happy to provide you with all the details upon request.

Thank you for choosing Midwest Used Fitness Equipment as your trusted partner in achieving your fitness goals. We are dedicated to providing you with exceptional products and unparalleled customer service.

If you have any questions or require further assistance, please don't hesitate to contact our friendly customer support team. We are here to assist you in any way we can.