Regular price
$2,500.00 USD
Regular price
Sale price
$2,500.00 USD
Unit price
per
Sale
Sold out
Weight:  810 Lbs. 
Weight Stack:  395 Lbs. 
Size:  73" L x 40" W x 71" H 
This is the most versatile line of selectorized single station equipment available in the industry. The 22 piece line boasts primarily welded construction for durability, adjustments that can all be made from the users exercise position and most of the best biomechanics available. It's designed to fit a broad range of users from 4'10" to 6'6". The exercise movements are machine defined and are suitable for all levels of exercisers from deconditioned, active adults, general fitness and professional athletes. If your facility is designed to use only one style of selectorized machine, Pro2SE is it.
Back pad adjusts from seated position for correct alignment with clearly-marked axis of rotation 
Adjustable thigh pad with handles enhances stabilization
Standard adjustable start position on Pro2 SE provides five positions for individual preferences
M

aintenance free, stainless steel rails offer and exceptionally smooth motion

User positioning and pressing angles are biomechanically optimized
Product Features
Frame Construction: U.S. made mechanical quality steel purchased in mill run quantities to assure the best consistency. 2" x 3" and 2" x 4" rectangular tubing with 11-gauge thickness (.120 wall)

Seat Adjustments: Ratcheting, ½" increment seats that can be adjusted with one hand for ease of use.

Weight Plates:  1" solid steel weight plates, front weight stack shrouds, low friction, self lubricating, weight plate bushings to minimize noise and friction. Magnetic weight pin for easy, secure adjustments. Each stack has an two integrated 5lb. increment drop down weights for smaller resistance increments.

Guide Rods:  3/4" stainless steel weight stack guide rods.

Cables and Pulleys: 7 X 19 strand construction, lubricated, nylon-coated cable meets U.S. military specifications. 4 ½" and 6" diameter fiberglass impregnated fiberglass pulleys feature sealed bearings.

Movement Arms: Counter balanced to ensure lighter starting resistance

Hand Grips: Grip positions are engineered to keep a neutral wrist position through the complete range of motion. Grip diameters are designed for that specific movement for a comfortable exercise. Extruded thermo rubber compound that is non-absorbing and wear and tear resistant. Grips are retained with aluminum collars preventing them from slipping.

Upholstery: Superior grade of Naugahyde® vinyl used on all upholstered pads

Paint: Powder coated paint finish with a clear coat finish for enhanced appearance and protection.  

Instructional Placards: Color 2D instructional placards.

Made in the USA
Share
View full details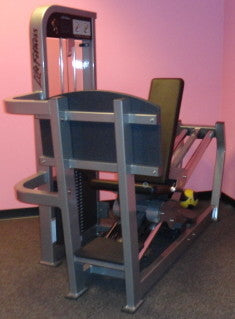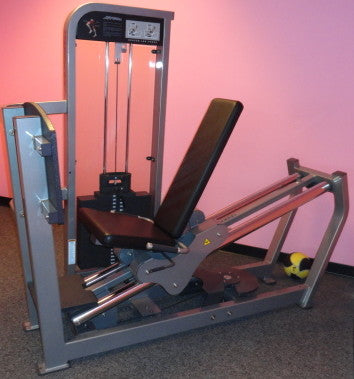 Customizable Shipping

Thank you for choosing Midwest Used Fitness Equipment for your fitness needs. We are excited to assist you in your journey towards a healthier and fitter lifestyle.

Please note that each order placed with us will require a personalized shipping quote. This is because shipping costs can vary depending on factors such as the size, weight, and destination of the equipment.

To ensure that you receive the most accurate shipping quote, we will carefully evaluate your order and consider the best shipping options available. Our goal is to provide you with the most cost-effective and efficient delivery service.

To proceed with your purchase and obtain a shipping quote, please complete your order as usual. Our dedicated team will promptly reach out to you with a tailored shipping quote that takes into account your specific requirements.

We appreciate your understanding and patience in this process. Rest assured, we are committed to providing you with excellent service, and our team will work diligently to ensure your fitness equipment reaches you in a timely manner and in perfect condition.

If you have any questions or require further assistance, please don't hesitate to reach out to our customer support team. We are here to help you every step of the way.

Thank you for choosing Midwest Used Fitness Equipment. We look forward to serving you and helping you achieve your fitness goals.

30 Day In-Home Trial

At Midwest Used Fitness Equipment, we understand the importance of finding the perfect fitness equipment that aligns with your goals and preferences. That's why we are thrilled to offer you our exclusive 30 Day In-Home Trial.

With our 30 Day In-Home Trial, we want to provide you with the opportunity to experience the equipment firsthand in the comfort of your own home. We believe that trying out the equipment in your personal environment is the best way to ensure it meets your needs and expectations.

Here's how it works: Once you receive your order, you will have a full 30 days to test and evaluate the equipment. Take your time to familiarize yourself with its features, functionality, and overall performance. We encourage you to incorporate it into your fitness routine and truly experience the benefits it has to offer.

If, within the 30-day trial period, you find that the equipment doesn't meet your expectations or isn't suitable for your needs, simply reach out to our customer support team. We will guide you through the return process and provide you with all the necessary instructions.

We value your satisfaction above all else, and we want to ensure that you are completely happy with your purchase. Our 30 Day In-Home Trial is designed to give you peace of mind and the confidence to make the right decision.

Please note that certain terms and conditions apply to our In-Home Trial program, and our team will be happy to provide you with all the details upon request.

Thank you for choosing Midwest Used Fitness Equipment as your trusted partner in achieving your fitness goals. We are dedicated to providing you with exceptional products and unparalleled customer service.

If you have any questions or require further assistance, please don't hesitate to contact our friendly customer support team. We are here to assist you in any way we can.