Regular price
$3,250.00 USD
Regular price
Sale price
$3,250.00 USD
Unit price
per
Sale
Sold out
Everything you get from self-powered treadmills, weighted sleds, resistance parachutes and harness systems in one space-saving footprint. Designed for maximum versatility and intensity, athletes can perform forward, lateral or reverse movements to maximize neuromuscular development and enhance agility.
Intuitive Set Up & Use
Ideal for multi-athlete and group circuit training where quick transitions are essential.

Sled Brake & Dedicated Sled Bar
Eight resistance settings provide a true-to-life, weighted sled pushing experience and the equivalent maximum of pushing a 270 lb. (122.5kg) sled on natural turf. Built-in bar simulates sled pushing and pulling without needing the space to use a traditional sled. 

Effortless Adjustable Harness
Allows for complete upper body range of movement. Unique treadmill-mounted design helps users refine form while coaches observe multiple sprint phases, adjust resistance and provide real-time feedback.

Parachute Brake
Eleven resistance settings give users the feel of real parachute resistance.

Ideally Angled
7-degree incline is ideal for building strength and explosiveness in sprint training without changing the athlete's natural gait.

Full Handrails
Designed to aid in entry and exit while offering support during lateral movement exercises. Provides convenient hand placement and stability as users switch rapidly from one phase of athletic movement to the next.

True Zero Start & Unlimited Top Speed
With no preset belt speeds, users can match their workout to their needs and fitness goals.

Low-Inertia Design
Offers true-to-life ground reaction force and quick deceleration, great for high-intensity interval training.

Heavy Duty Deck
Designed to stand up to the most intense workouts in athletic training environments.

Low Step-On Height
A 7 (17.8cm) step-on height makes it easily accessible.
Weight: 320lbs
DRIVE SYSTEM: Dual magnetic maintenance free brakes
SPEED RANGE: User defined
USER HARNESS: Adjustable, connection free harness
POWER MEASUREMENT (WATT): Yes
RESISTANCE LEVELS: 11 parachute, 8 sled
RESISTANCE SYSTEM: Magnetic
BELT TYPE: Forbo, commercial grade
DECK TYPE: Reversible, 2.5 cm / 1"
STEP-ON HEIGHT: 17.8 cm / 7"
SLED BRAKE MAXIMUM RESISTANCE: 122.5 kg / 270-lb. sled on natural turf
SHIPPING WEIGHT: 320 lbs.
MAX USER WEIGHT: 400 lbs.
OVERALL DIMENSIONS: 76.8" x 34.8" x 59" (L x W x H)
Share
View full details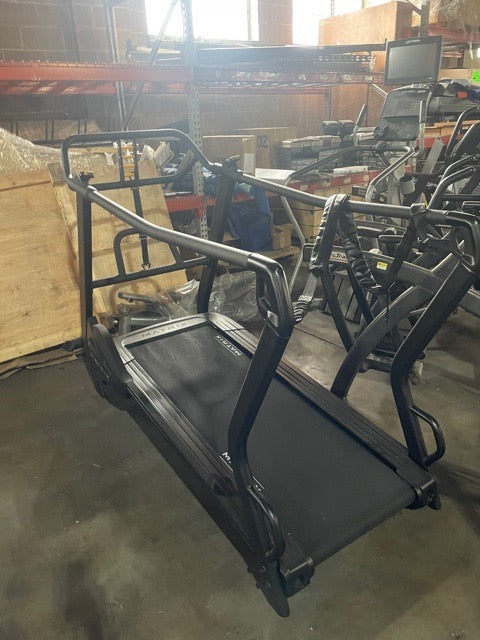 Customizable Shipping

Thank you for choosing Midwest Used Fitness Equipment for your fitness needs. We are excited to assist you in your journey towards a healthier and fitter lifestyle.

Please note that each order placed with us will require a personalized shipping quote. This is because shipping costs can vary depending on factors such as the size, weight, and destination of the equipment.

To ensure that you receive the most accurate shipping quote, we will carefully evaluate your order and consider the best shipping options available. Our goal is to provide you with the most cost-effective and efficient delivery service.

To proceed with your purchase and obtain a shipping quote, please complete your order as usual. Our dedicated team will promptly reach out to you with a tailored shipping quote that takes into account your specific requirements.

We appreciate your understanding and patience in this process. Rest assured, we are committed to providing you with excellent service, and our team will work diligently to ensure your fitness equipment reaches you in a timely manner and in perfect condition.

If you have any questions or require further assistance, please don't hesitate to reach out to our customer support team. We are here to help you every step of the way.

Thank you for choosing Midwest Used Fitness Equipment. We look forward to serving you and helping you achieve your fitness goals.

30 Day In-Home Trial

At Midwest Used Fitness Equipment, we understand the importance of finding the perfect fitness equipment that aligns with your goals and preferences. That's why we are thrilled to offer you our exclusive 30 Day In-Home Trial.

With our 30 Day In-Home Trial, we want to provide you with the opportunity to experience the equipment firsthand in the comfort of your own home. We believe that trying out the equipment in your personal environment is the best way to ensure it meets your needs and expectations.

Here's how it works: Once you receive your order, you will have a full 30 days to test and evaluate the equipment. Take your time to familiarize yourself with its features, functionality, and overall performance. We encourage you to incorporate it into your fitness routine and truly experience the benefits it has to offer.

If, within the 30-day trial period, you find that the equipment doesn't meet your expectations or isn't suitable for your needs, simply reach out to our customer support team. We will guide you through the return process and provide you with all the necessary instructions.

We value your satisfaction above all else, and we want to ensure that you are completely happy with your purchase. Our 30 Day In-Home Trial is designed to give you peace of mind and the confidence to make the right decision.

Please note that certain terms and conditions apply to our In-Home Trial program, and our team will be happy to provide you with all the details upon request.

Thank you for choosing Midwest Used Fitness Equipment as your trusted partner in achieving your fitness goals. We are dedicated to providing you with exceptional products and unparalleled customer service.

If you have any questions or require further assistance, please don't hesitate to contact our friendly customer support team. We are here to assist you in any way we can.