Regular price
$3,250.00 USD
Regular price
Sale price
$3,250.00 USD
Unit price
per
Sale
Sold out
The innovative and premium design of the Adaptive Motion Trainer (AMT) 835 takes fitness to a whole new level with the addition of the Open Stride feature. This single piece of equipment fully engages exercisers of all fitness levels with an infinite range of stride paths to create a uniquely effective low-impact workout, making every workout a personalized experience. The AMT 835 provides exercisers boundless cardio variety without the need to change machines. 
Features
Adaptive Stride Length: Naturally adapt stride length without the need to control settings. From zero to 36 inches (0 to 91 cm), to match the desired workout for each unique user.
Open Stride is a unique feature that allows exercisers to adapt their stride height from 6.8 to 10 inches (17 to 25 cm) and stride length from zero to 36 inches (0 to 91 cm).
Dual action provides both upper and lower body workout. Arms are engaged with pushing and pulling motion to provide the ultimate in total body engagement.
Stride Dial: The pendulum-like swing of the Stride Dial helps users see stride length to determine the muscle groups being worked. As stride length changes, the Stride Dial updates real-time.
Biomechanics validated by Western Washington University Biomechanics Lab for users of all fitness levels and sizes, from the 5% size female to the 95% size male user. Excellent stability and freedom of movement.
Foot pedals with toe caps enable user to optimize muscle involvement. Two-step powder-coating process applies rust-resistant undercoat and cosmetic topcoat to steel frame.
Step on platform in the rear is polypropylene for durability. Platform enables the user to step onto the foot pedals while identifying how far the foot pedals may extend from the back of the machine.
Resistance System: Twenty resistance levels ranging from 20 watts (level 1 at 60 SPM, zero stride length) to 375 watts (level 20 at 120 SPM, max stride length).
Resistance Levels: 1 - 20
Languages: Dutch, English, French, German, Italian, Portuguese, Russian, Spanish
PRESET PROGRAMS: Manual Interval Variety Performance Heart Rate Weight Loss
Readouts: Resistance Level Distance Strides / Min Calories / Min Calories Heart Rate Time Remaining Time Elapsed Time in Zone Segment Time Remaining Average Speed (strides per min) Calories / min Calories / hour Watts METS Target HR Average HR Stride Length % Complete Workout Summary Workout Profile
Heart Rate: Handheld heart rate sensors located on fixed handlebars for increased accuracy and ease of use by exercisers of all sizes or Equipped for heart rate telemetry reading using a chest strap.
Max User Weight: 350 lbs
Step-up Height at lowest foot pedal height: 6.5 inches / 16.5 cm
Foot Pedal Dimensions: 8 W x 14 L inches
Minimum Space between foot pedals: 4 inches 
DimensionsL: 80" x W: 35" x H: 69"
Total Weight: 412 lbs
Share
View full details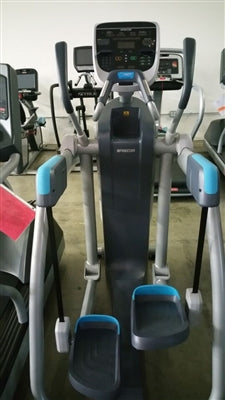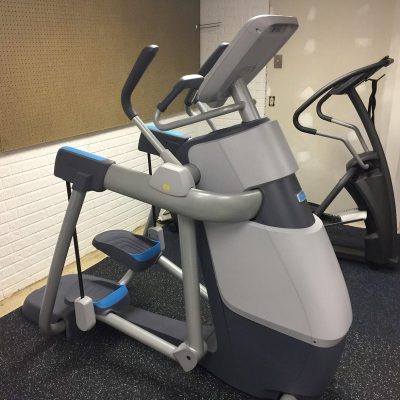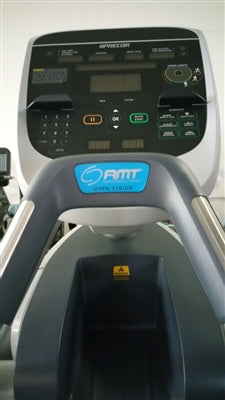 Customizable Shipping

Thank you for choosing Midwest Used Fitness Equipment for your fitness needs. We are excited to assist you in your journey towards a healthier and fitter lifestyle.

Please note that each order placed with us will require a personalized shipping quote. This is because shipping costs can vary depending on factors such as the size, weight, and destination of the equipment.

To ensure that you receive the most accurate shipping quote, we will carefully evaluate your order and consider the best shipping options available. Our goal is to provide you with the most cost-effective and efficient delivery service.

To proceed with your purchase and obtain a shipping quote, please complete your order as usual. Our dedicated team will promptly reach out to you with a tailored shipping quote that takes into account your specific requirements.

We appreciate your understanding and patience in this process. Rest assured, we are committed to providing you with excellent service, and our team will work diligently to ensure your fitness equipment reaches you in a timely manner and in perfect condition.

If you have any questions or require further assistance, please don't hesitate to reach out to our customer support team. We are here to help you every step of the way.

Thank you for choosing Midwest Used Fitness Equipment. We look forward to serving you and helping you achieve your fitness goals.

30 Day In-Home Trial

At Midwest Used Fitness Equipment, we understand the importance of finding the perfect fitness equipment that aligns with your goals and preferences. That's why we are thrilled to offer you our exclusive 30 Day In-Home Trial.

With our 30 Day In-Home Trial, we want to provide you with the opportunity to experience the equipment firsthand in the comfort of your own home. We believe that trying out the equipment in your personal environment is the best way to ensure it meets your needs and expectations.

Here's how it works: Once you receive your order, you will have a full 30 days to test and evaluate the equipment. Take your time to familiarize yourself with its features, functionality, and overall performance. We encourage you to incorporate it into your fitness routine and truly experience the benefits it has to offer.

If, within the 30-day trial period, you find that the equipment doesn't meet your expectations or isn't suitable for your needs, simply reach out to our customer support team. We will guide you through the return process and provide you with all the necessary instructions.

We value your satisfaction above all else, and we want to ensure that you are completely happy with your purchase. Our 30 Day In-Home Trial is designed to give you peace of mind and the confidence to make the right decision.

Please note that certain terms and conditions apply to our In-Home Trial program, and our team will be happy to provide you with all the details upon request.

Thank you for choosing Midwest Used Fitness Equipment as your trusted partner in achieving your fitness goals. We are dedicated to providing you with exceptional products and unparalleled customer service.

If you have any questions or require further assistance, please don't hesitate to contact our friendly customer support team. We are here to assist you in any way we can.