Regular price
$2,850.00 USD
Regular price
Sale price
$2,850.00 USD
Unit price
per
Sale
Sold out
The insight driven design of the TRM 731 delivers the same reliability, performance, and efficiency that Precor is known for at a budget-friendly price.  Built for high-use on our commercial platform, this treadmill sacrifices nothing in longevity, making it a money-saving valuable investment.  Features like the Active Status Light make it easy to maintain for any of your staff and decreases product downtime.  At the same time, the TRM 731 delivers a consistent Precor feel and comfort for your exercisers.  The P31 LED console provides exercisers essential workout metrics for an effective fitness experience.
Equipment Features
Cable Management
Optional
Emergency Stop
Safety clip and lanyard attached to the stop switch to immediately turn off power bringing the treadmill to a stop. The lanyard and safety clip can be conveniently attached to a thoughtful tab located underneath the front handrail.
Transport Wheels
Integrated
Reversible Deck
Yes
Auto Stop
Step sensor detection stops a moving running belt when there is no exerciser.
Motor
IFT-Drive controller works with a new, high efficiency 4 HP AC motor that delivers improved performance and a smooth, natural feel.
Frame
New frame design results in an ultra-stable console, solid feel, and quiet operation.
Ground Effects® Impact Control System
New and improved progressive shock absorption system that absorbs high impact movements and supports a solid and controlled push off. 
Rollers
Steel tapered rollers keep the belt centered to reduce maintenance.
Integrated Footplant Technology™
Fully complements exercisers natural running stride, reducing joint stress and fatigue.
Deck and Belt
Multi-ply polyester belt with optimized lubrication integrated into the material, exclusive to Precor.
The running belt is combined with a pre-waxed deck that offers added lubrication especially during the initial break-in period of the treadmill.
The combination of the exclusive optimized running belt with pre-waxed deck yields a long lasting system. However, when the running belt does need to be replaced and the deck flipped, this service can be completed in less than 20 minutes.
The deck is mounted to the GFX system independent of the frame resulting in a stable, quieter treadmill. 
Elevation System
Elevation system generates up to 1000 lbs of thrust and operated in compression for reliable operation.
Water Bottle Holder
Dual holders cradle the exerciser's water bottle to keep it stable.
Active Status Light
The Active Status Light alerts facility staff at a glance to the operating status of the treadmill to quickly identify when maintenance or service is needed.
Console Features
Display Type
Advanced LED
Numeric Keypad
Yes
Motion Controls
Yes
QuickStart™
Yes
Console Language(s)
English, French, German, Italian, Japanese, Portuguese, Russian, Spanish
Units Selection
Metric or U.S. Standard
Maximum Pause Time (Pause)
120 seconds
Maximum Workout Time
Unlimited
Equipment Settings
Speed
Incline

Distance, Pace, 
Average Speed
Calories
Heart Rate
Time Elapsed, 
Time Remaining

% Complete, Time in Zone, Segment Time, Cals/min, Cals/hr, watts, METS, Target HR, Average HR, Elevation Gain
Preset Programs
Weight Loss
Custom Weight Loss HRC
Weight Loss HRC
1 Aerobic
2 Aerobic
Heart Rate
Basic HRC
Custom Weight Loss HRC
Weight Loss HRC
Performance
Track
5K
Gerkin Fitness Test
Variety
Random
1 Cross Country
2 Cross Country
1 Gluteal
2 Gluteal
1 Custom
2 Custom
Interval
1-1 Interval
1-2 Interval
1-3 Interval
Custom Interval
Manual
Manual
Heart Rate Monitoring
| | |
| --- | --- |
| Touch | Touch heart rate sensors located on fixed handlebars for increased accuracy and ease-of-use by users of all sizes. |
| Telemetry | Equipped for heart rate telemetry reading using a chest strap. |
| Heart Rate Sensor Advisory | The heart rate features are intended for reference only. They may not be accurate for every user or at every speed and are not intended for use as a medical device. Holding the heart rate handle touch sensor while exercising at higher intensity may also decrease accuracy of the heart rate reading and is not recommended. Please also read the product documentation |
Equipment Specifications
Power Cord Management
ICE 320-C19 inlet supporting Schuko and BSI plugs
Motor
IFT-Drive controller works with a high efficiency 4 HP AC motor that delivers improved performance, reliability and efficiency.
Handrail Length (inches / cm)
18 in / 46 cm
Roller Diameter (inches / cm)
3.5 in / 8.9 cm
Maximum User Weight
400 lbs / 181 kg
Step-up Height
9.5 in / 24 cm
Speed Range
0.5 - 12 mph / 0.8-19.2 km/h
Decline / Incline Range
0% to 15% incline in 0.5% increments
Standard Frame Colors
Gloss Metallic Silver
Black Pearl
Running Surface (L X W)
60 X 22 in / 153 X 56 cm
Equipment Dimensions and Weight
| | |
| --- | --- |
| Height with PVS | 78 in / 198 cm |
| Length | 83 in / 211 cm |
| Width | 35 in / 89 cm |
| Height | 64 in / 163 cm |
| Equipment Weight  | 405 lbs / 184 kg |
Share
View full details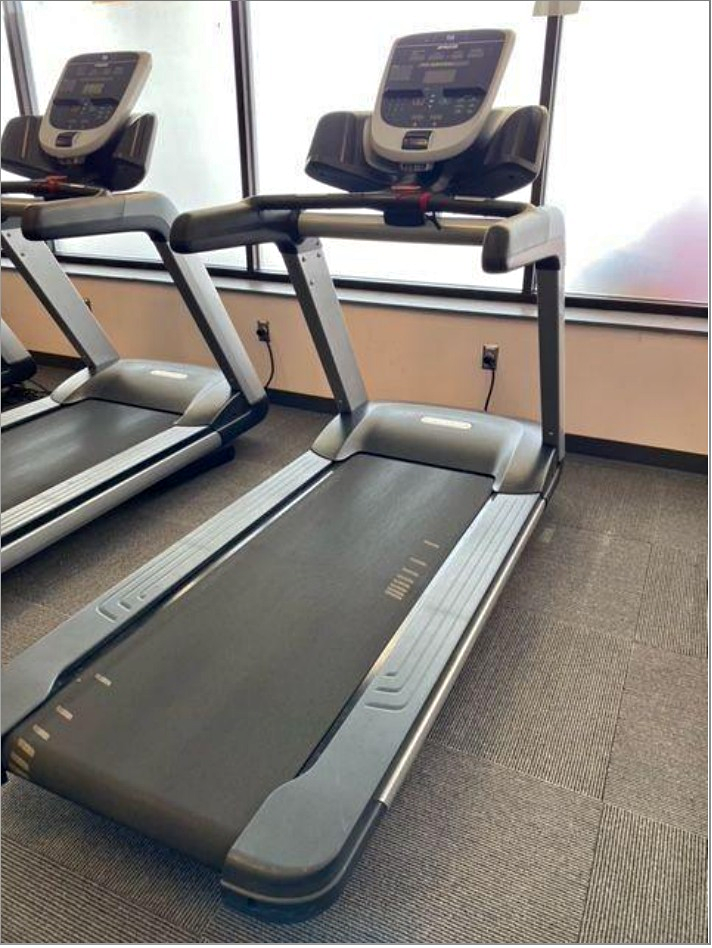 Customizable Shipping

Thank you for choosing Midwest Used Fitness Equipment for your fitness needs. We are excited to assist you in your journey towards a healthier and fitter lifestyle.

Please note that each order placed with us will require a personalized shipping quote. This is because shipping costs can vary depending on factors such as the size, weight, and destination of the equipment.

To ensure that you receive the most accurate shipping quote, we will carefully evaluate your order and consider the best shipping options available. Our goal is to provide you with the most cost-effective and efficient delivery service.

To proceed with your purchase and obtain a shipping quote, please complete your order as usual. Our dedicated team will promptly reach out to you with a tailored shipping quote that takes into account your specific requirements.

We appreciate your understanding and patience in this process. Rest assured, we are committed to providing you with excellent service, and our team will work diligently to ensure your fitness equipment reaches you in a timely manner and in perfect condition.

If you have any questions or require further assistance, please don't hesitate to reach out to our customer support team. We are here to help you every step of the way.

Thank you for choosing Midwest Used Fitness Equipment. We look forward to serving you and helping you achieve your fitness goals.

30 Day In-Home Trial

At Midwest Used Fitness Equipment, we understand the importance of finding the perfect fitness equipment that aligns with your goals and preferences. That's why we are thrilled to offer you our exclusive 30 Day In-Home Trial.

With our 30 Day In-Home Trial, we want to provide you with the opportunity to experience the equipment firsthand in the comfort of your own home. We believe that trying out the equipment in your personal environment is the best way to ensure it meets your needs and expectations.

Here's how it works: Once you receive your order, you will have a full 30 days to test and evaluate the equipment. Take your time to familiarize yourself with its features, functionality, and overall performance. We encourage you to incorporate it into your fitness routine and truly experience the benefits it has to offer.

If, within the 30-day trial period, you find that the equipment doesn't meet your expectations or isn't suitable for your needs, simply reach out to our customer support team. We will guide you through the return process and provide you with all the necessary instructions.

We value your satisfaction above all else, and we want to ensure that you are completely happy with your purchase. Our 30 Day In-Home Trial is designed to give you peace of mind and the confidence to make the right decision.

Please note that certain terms and conditions apply to our In-Home Trial program, and our team will be happy to provide you with all the details upon request.

Thank you for choosing Midwest Used Fitness Equipment as your trusted partner in achieving your fitness goals. We are dedicated to providing you with exceptional products and unparalleled customer service.

If you have any questions or require further assistance, please don't hesitate to contact our friendly customer support team. We are here to assist you in any way we can.